Details
PRODUCT DETAILS
The 2XU Compression Short is engineered for activities requiring support to the major upper leg muscles – reducing vibration, improving alignment and protecting against damage and fatigue. A popular piece for exercise, ball sports, training and competition. Can be worn on it's own or as a base layer.
BENEFITS
Reduced fatigue through less muscle oscillation
Reduced muscle soreness
Reduced long-term overuse injuries
Greater power output
Greater oxygenation of blood for faster recovery
Heightened proprioception – awareness of limb placement for agility
PWX
Following extensive ongoing research + consultation with the world's finest athletes + sporting institutes, 2XU is proud to present PWX - a collection of premium Compression fabrics engineered to offer optimal POWER, WEIGHT + FLEXIBILITY in perfect equilibrium depending on your needs.
Each PWX fabric features high grade elastomeric yarns + a superior grade circular knit structure to allow 360 degree stretch, unsurpassed power + flexibility.
For specific sizing, please refer to the size chart below, taking into consideration that if you're near the borderline for sizes or you wish to wear your compression garment primarily for recovery purposes, be sure to choose the smaller size where possible.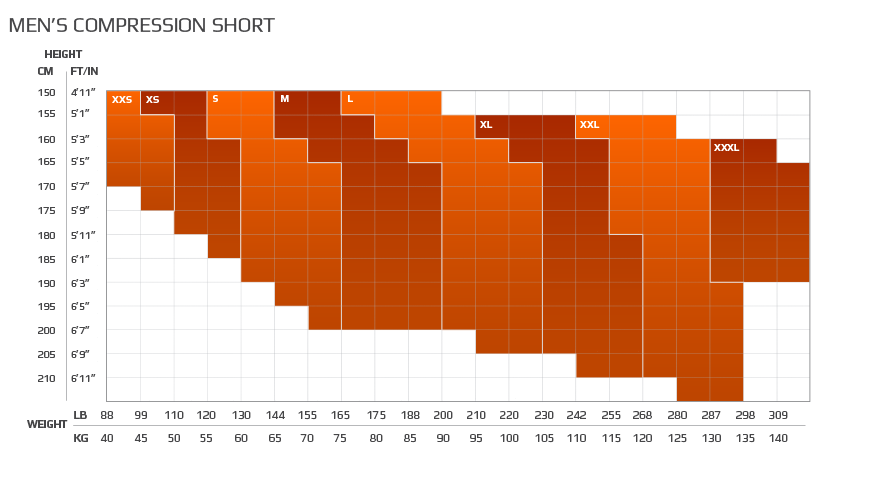 Additional Information
Name
2XU MEN'S COMPRESSION SHORT
Description

PRODUCT DETAILS

The 2XU Compression Short is engineered for activities requiring support to the major upper leg muscles – reducing vibration, improving alignment and protecting against damage and fatigue. A popular piece for exercise, ball sports, training and competition. Can be worn on it's own or as a base layer.

BENEFITS

Reduced fatigue through less muscle oscillation
Reduced muscle soreness
Reduced long-term overuse injuries
Greater power output
Greater oxygenation of blood for faster recovery
Heightened proprioception – awareness of limb placement for agility

PWX

Following extensive ongoing research + consultation with the world's finest athletes + sporting institutes, 2XU is proud to present PWX - a collection of premium Compression fabrics engineered to offer optimal POWER, WEIGHT + FLEXIBILITY in perfect equilibrium depending on your needs.

Each PWX fabric features high grade elastomeric yarns + a superior grade circular knit structure to allow 360 degree stretch, unsurpassed power + flexibility.

For specific sizing, please refer to the size chart below, taking into consideration that if you're near the borderline for sizes or you wish to wear your compression garment primarily for recovery purposes, be sure to choose the smaller size where possible.

Image Gallery
N/A