Details
PRODUCT DETAILS
The 2XU Compression Tights are a versatile and essential piece for any activity or post exercise recovery. With an impressive list of features and benefits, these graduated Tights are breathable and light weight, yet supportive to major muscles. Body firming and ideal for both low and high impact training, competition or recovery demands.
BENEFITS
Greater oxygenation of blood for faster recovery
Faster muscle warm up pre-exercise
Reduced fatigue through less muscle oscillation
Reduced muscle soreness
Reduced long-term overuse injuries
Greater power output
Heightened proprioception – awareness of limb placement for agility
For specific sizing, please refer to the size chart
below, taking into consideration that if you're near the borderline for sizes or you wish to wear your compression garment primarily for recovery purposes, be sure to choose the smaller size where possible.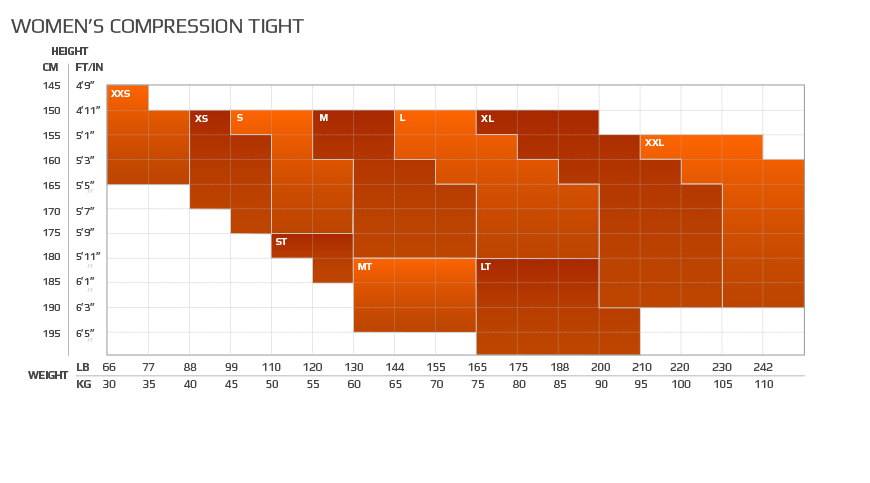 Additional Information
Name
2XU WOMEN'S COMPRESSION TIGHTS
Description

PRODUCT DETAILS

The 2XU Compression Tights are a versatile and essential piece for any activity or post exercise recovery. With an impressive list of features and benefits, these graduated Tights are breathable and light weight, yet supportive to major muscles. Body firming and ideal for both low and high impact training, competition or recovery demands.

BENEFITS

Greater oxygenation of blood for faster recovery
Faster muscle warm up pre-exercise
Reduced fatigue through less muscle oscillation
Reduced muscle soreness
Reduced long-term overuse injuries
Greater power output
Heightened proprioception – awareness of limb placement for agility

For specific sizing, please refer to the size chart

below, taking into consideration that if you're near the borderline for sizes or you wish to wear your compression garment primarily for recovery purposes, be sure to choose the smaller size where possible.

Image Gallery
N/A